The Site Creator component allows you to let clients self-serve a new 'child site' automatically.
Child Sites are independent websites that are owned by your clients, but running on the same server as your site. The Site Creator component is one of a set of components designed to simplify the management of multiple client or corporate websites. See the Reseller tools section for an overview of these tools.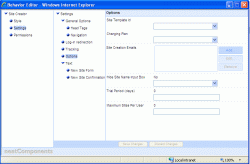 You could use the Site Manager component to manually assign a new site to a client, however the Site Creator component allows you to automate the process, enabling clients to visit your site, and set themselves up with a new site without any manual involvement on your part at all.
The Site Creator component provides a simple form where the client (who will already have logged in to your site) enters the name they would like to give to their site, and clicks a 'create site' button.
The Site Creator then creates a site for them, based on a Template Site (chosen ahead of time in the Behavior Editor settings for the component).
The client can then be sent emails by the component confirming what has happened and welcoming them to the service they have signed up for. As Template Sites can be associated with Charging Plans, this can start a recurring charging regime, where the client needs to periodically fill up their Account.